SUZUKI - DF250
Suzuki DF250 was the first 250 horse power V-6 four-stroke outboard on the market. This is the motor that started it all and has a showcase full of trophies and awards to prove it.  If you are buying a new boat or repowering a trusty companion, make it a one stop shop and rig that boat with a new Suzuki DF250 V-6.  You'll be glad you did.
POWERFUL
RELIABLE
INNOVATIVE
Nobody Delivers More Performance-Enhancing Features Than Suzuki.
Continuously Variable Valve Timing
The DF250 incorporates Suzuki's advanced Variable Valve Timing (VVT). VVT is used to alter intake timing with the camshaft to optimize camshaft timing for low to mid-range operation. Combined with the outboard's aggressive cam profile VVT delivers greater low to mid-range torque for powerful acceleration.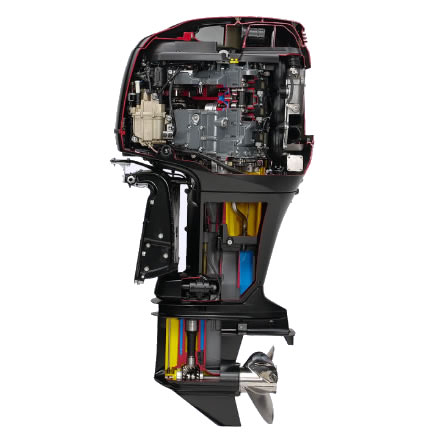 Multi Stage Induction
Suzuki's Multi-Stage Induction system is used to increase engine performance. Each cylinder in this system is equipped with a set of short and long intake manifolds that are utilized in relation to engine speed. At lower rpm the longer pipes deliver an optimum volume of fresh air into the chamber, improving combustion and boosting low-end torque. At higher rpm, the valve on the shorter, direct intake pipe opens up letting air in the chamber directly boosting high-speed power output. (DF250/225)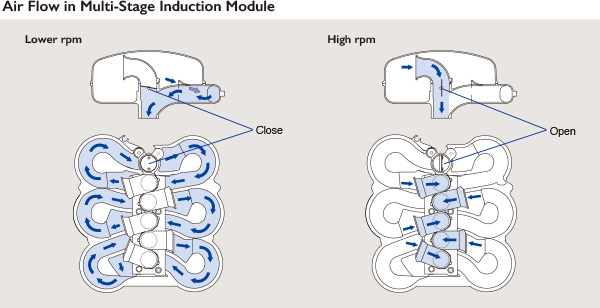 Durability & Reliability
Suzuki's formulated Suzuki Anti-Corrosion Finish starts with a special finish that offers maximum bonding of the finish to the Suzuki Aluminum Alloy. To this an epoxy primer undercoat, black metallic finish, and clear acrylic fiber finish are added to create an effective treatment against corrosion. This finish can be found on all Suzuki line-up models.

Computer Efficient Fuel Injection
Advanced multi-point sequential electronic fuel injection monitored by the 32-bit onboard computer keeps Electronic Fuel Injection performance fine-tuned. At the same time, fully transistorized ignition provides a hotter spark with less electronic interference.

Compact Designs
Thanks to our exclusive 55° bank angle and offset driveshaft layout, you get power and performance from a sleek, compact outboard that'll look great on any transom – especially yours.

Cleaner, More Efficient Operation
Suzuki's advanced four stroke technologies deliver cleaner, more efficient operation that conforms to the Recreational Craft Directive (RCD) Standards and has received a three-star rating from the California Air Resources Board (CARB).

Largest Gear Reduction Ratio
Suzuki's two-stage gear reduction results in a 2.29:1 gear ratio. We swing a large diameter prop designed to move a lot of water – and a lot of boat.